Data from the James Webb Space Telescope were released to the community beginning on 2022 July 12. These pages describe the release timeline, some of the featured products, and the means by which users may obtain data products.
On this page...
Release Timeline

Data were released in stages, as depicted in the graphic below. Data are hosted on multiple platforms in an effort to serve large amounts of data to a wide audience in a timely way.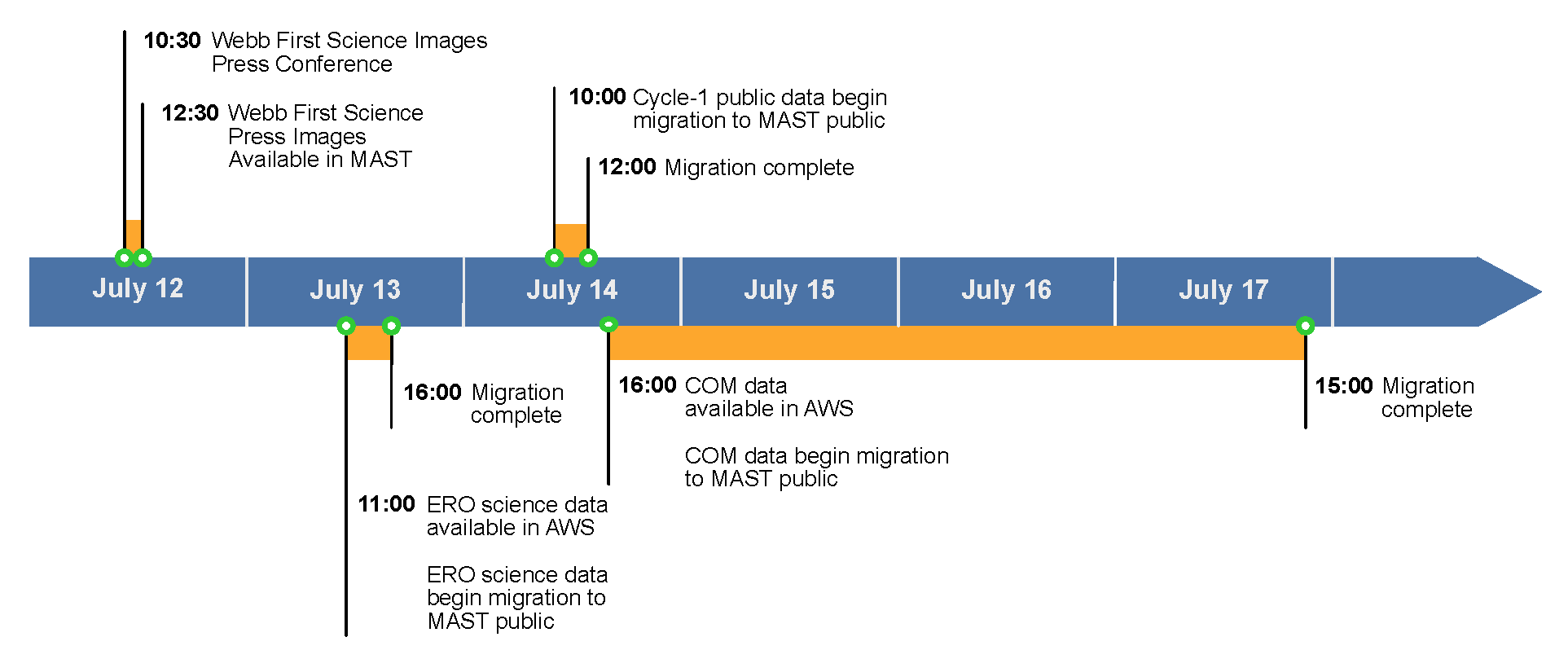 JWST data were released in stages (green circles) by program type. It takes some time for all of the data to be migrated from storage where exclusive access is enforced to storage where there are no restrictions. During the migration (orange bars) logged-in users were able to retrieve the data, but anonymous users could only retrieve data that had been migrated. Data that were staged on the AWS platform became available to everyone immediately upon release, or as soon thereafter as possible once data have been processed. Note: times are in US EDT (UTC-4). 
Data from CAL, DD, ENG, ERS, and GO/GTO are bundled under "Cycle-1" programs in the timeline above. Exclusive access periods for GO/GTO data will continue to be enforced where applicable.
Program Categories
Data from the following categories of programs will be made available in MAST (and in two cases, Amazon Web Services):
| Abbr | Program Type | Access | Notes |
| --- | --- | --- | --- |
| CAL | Calibration | Public | Cycle 1 program to collect data for calibrating science instruments. Some include observations of external targets. |
| COM | Commissioning | Public | Observations obtained in the first 6 months of flight to characterize and adjust telescope and instrument functionality and performance. |
| DD | Director's Discretion | Public | Off-cycle grants of urgent observations. |
| ENG | Engineering | Public | Non-standard observations meant to characterize instrument health and functionality. |
| ERO | Early Release Observations | Public | Webb First Science data that illustrate the capabilities of JWST and the science instruments. |
| ERS | Early Release Science | Public | Cycle 1 programs that will execute early. |
| GO/GTO | Guest/Guaranteed-Time Observer | EAP+Public | Cycle 1 programs, a few of which have immediate public access. |
Use AWS for Data Retrievals
We strongly recommend that you retrieve data from the AWS S3 bucket if available. This will off-load network traffic from STScI, and will offer higher availability and throughput for data transfers. Datasets on AWS are the ERO science data and the Commissioning (COM) data. The volume of all COM data approaches 150 TB.