Browsing Basics
The features of the various tools for browsing data are described in this chapter.
Search Tabs
A successful Portal search populates a new tab of results (as shown in the figure below). Each subsequent search opens results in a new tab.  Tabs persist during a Portal session, and may be closed (except the Home Page) by clicking the

icon on the right of the name.

Results of one or more Portal searches within a session are accessible via labelled tabs in the panel. Click the tab name to access the results of a search. The footprints of the results of each search may be represented in the AstroView tool in a different color.
The contents of the results tabs are described in the Field Guide to the Portal, and consist of:
A Toolbar contains information on the number of results, the searched for objects, and buttons to activate various browse options.  See Results Toolbar for more. 
A Filters panel provides options for refining the search results.  See Refining Results with Filters for more.  
A Table panel shows a grid of individual results, whether observation objects (from searches of MAST missions) or catalog entries.
An AstroView panel shows an on-sky view centered on the coordinate of the search target, with mission footprints, if any, overlaid.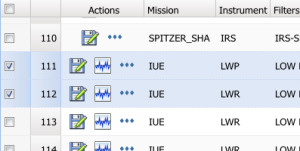 You may select data of particular interest for either detailed browsing, or in the case of mission searches, to place results in the Download Basket. Simply check one or more boxes at the far left of the results table to select them (or select all rows by checking the box in the table heading), then click the desired action button. Note that the background of selected rows are highlighted, as are the corresponding footprints in AstroView.
Multiple data products in the Download Basket may be further refined with the Download Manager and selected for retrieval.